Pierce Hall
Pierce Hall is one of the oldest structures on campus, but it was completely restored and remodeled around 2004. The interior is very inviting with its hardwood oak floors. It is a two level dormitory building housing up to 48 persons. The first floor has 11 bunk beds and the second floor has 13 bunk beds. The beds are college dorm size twin beds with 6" mattresses. During summer camps, Pierce Hall typically is used for boys housing.
Each room has three private showers, three toilets and four sinks.
There is a basement with space to play or meet and there are older restroom facilities down there also. A couple of ping pong tables are in the basement.
The building is air conditioned and has heat adequate for mild spring and fall weather.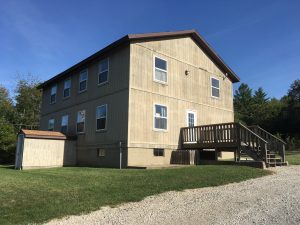 Pierce Cabin Rental
Immediate Family (max fee all rooms)

* SUPPORTING GROUP RATE REFERS TO ASSOCIATION MEMBER CHURCHES.

** The minimum charge per room or cabin used is $25.00. *

The minimum charge per room or cabin used is $30.00.