Protect and Provide for the Next Generation

Will YOU partner with us to protect and provide for the next generation of campers? We need your help to raise the funding necessary to build a new multi-purpose center, replacing Parker Hall.Prayerfully consider how you can be a part of the future of Grand Oaks ministry, whether through prayer, volunteering, or monetary contributions. Thank you!

Posted by Grand Oaks Baptist Assembly, Inc. on Monday, June 22, 2020
Our facilities can be rented for gatherings throughout the entire year!Head over to our website (https://grandoaks.camp) and click on the "Facilities" tab to view photos of each of the facilities and for more information on renting them!Or, you can give us a call at (660)646-1906 to reserve a place. Please note that we will be adhering to government guidelines during this time of COVID-19, which could include limiting the usage or size of gatherings. We hope to see you soon!

Posted by Grand Oaks Baptist Assembly, Inc. on Wednesday, June 3, 2020
WHETHER YOU ARE LOOKING FOR A PLACE TO SEND YOUR CHILD TO CAMP, A BIRTHDAY PARTY, FAMILY REUNION, OR A UNIQUE RETREAT OPPORTUNITY FOR SOME SPECIAL GROUP, GRAND OAKS CAMP IS THE PLACE FOR YOU.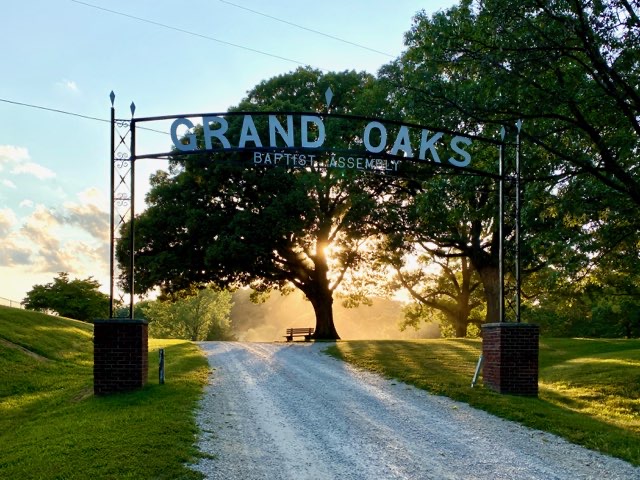 Since 1946 our focus has been to serve others by providing a place that speaks to both young and old. Our primary focus is on facilitating ministry to the children and youth in the surrounding areas through summer camps. In addition to summer camps we provide facilities to churches, families, and other organizations for various needs. We host women's, men's and youth retreats throughout the year. Depending on the size of group and specific needs our Retreat Center, Chapel and Dining Hall accommodate our groups well. More information about these facilities and more can be viewed under the Facilities tab. just select the building you would like to gain more information on. Or under the Facilities tab is information about pricing and forms for one to fill out to reserve a building.
During the warmer months usually from Memorial Day through Labor Day the Grand Oaks Swimming Pool is available for swim parties when not in use for camps. Families and churches rent the pool for private swim parties and take advantage of the shaded picnic area for eating, fellowship and relaxing. Some groups take advantage of our Steen lake and go fishing for large mouth bass, bluegill, or sunfish. Another option on the lake is Paddle boating. These boats are used during camps but are also available to rent for private events. Check out our Activities tab for a list of what is available and select an activity under the tab for more information. We encourage you to come see why Grand Oaks holds a special place in so many people's heart and life, Come visit us!